Morning Run
Beautiful day for a morning run on the 10K loop. Cool and clear with low humidity. The D&L trail is totally finished with all the heavy machinery now off the trail this morning. The switchback on three ponds is lush green with ferns. Taller grass on Chestnut oak trail and on Prairie grass trail hide rocks and at points make the trail difficult to navigate so if you can upload the course it would be helpful. Came back soaked from the waist down from the dew on the grass. Here is a link to this mornings run. Slow with lots of starting and stopping. Took some pictures today which you can see on the photos page and also got off course a couple times on Prairie grass. Here is the link: http://connect.garmin.com/activity/97372183. Run safe, run smart, run strong. MM
First effort
This is my first effort at blogging on the site so here goes.
It has been a great spring on the trails at the gap.
We have witnessed the completion of the D&L trail between the Nature Center and Three Ponds in East Bowman's. This will make the first 2.3 miles of the trail run much more forgiving. And much faster.
Ruby and I have seen some great wildlife, including a doe and her fawn, turkey and a hawk soaring within 50 feet of us as we crested the top of Blue Mountain on the Charcoal trail.
I finally figured out how to loop back onto the blue trail coming from the North. That stretch of the blue trail which takes you back to the cell towers over the Lehigh Tunnel has some great views of the Lehigh River and Carbon County to the North. It is quickly becoming one of my favorite trails.
Been thinking a lot about the trail run this fall. Very excited about it. If it is a success. I have routes in mind for the next couple of years including an Alpe d'Huez style mountain top finish in 2013.
Thanks for your interest in the event. Mike
2 Mile Scamper Description
Lehigh Gap Nature Center 2 Mile Scamper
Start: Plaque for Eagle Scout project on D&L Trail across from the Lehigh Gap Nature Center Pond.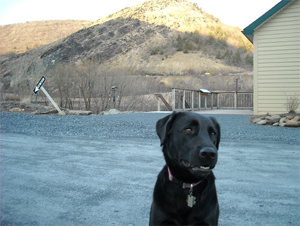 At 1.08 miles: Turn left up the Bobolink Trail. This is a short, steep pitch 0.12 miles in length, connecting the lower D&L trail to the upper LNE Trail.
At 1.20 miles: Turn left onto the LNE Trail. Thos upper trail will begin your return trip to the Nature Center.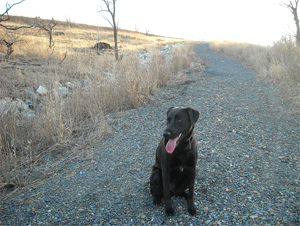 At 1.96 miles: Bear right up short steep pitch past a power line tower. Caution: be careful of the rocky descent back to the Nature Center on loose rock and gravel.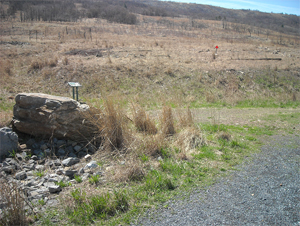 At 2.22 miles: Turn right onto road bringing you up to the parking lot behind the Lehigh Gap Nature Center
2.30 miles: Race Finish at north edge of Lehigh Gap Nature Center